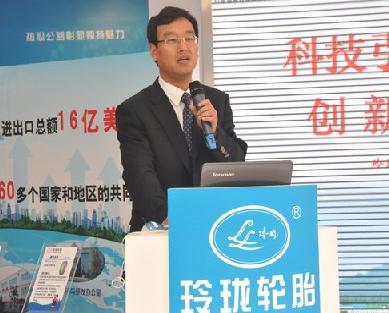 Linglong Tire's 20 products are researched and developed overseas this year


On April 23, at the Beijing Auto Show, Tencent Automobile interviewed Chairman of the board of exquisite car Wang Feng. He said that Linglong Tire is the only company in the industry that has 20 overseas R&D companies.
The only 20 products in the industry are overseas R&D

Tencent Auto: This year is to focus on overseas, right?
Wang Feng: Not too. The research and development center of our company has more than 4 billion R&D equipments and testing equipments. In recent years, not only has invested much, but the key is to combine our entire tire research with the automobile. This year GM and Ford added suppliers three to five years. This year, we have only 20 overseas products developed overseas. We attach great importance to the Chinese market, and today we attach importance to the school bus and form a school bus to focus on the team. Therefore, we are now paying attention to foreign countries for domestic purposes. We also study domestic and domestic production of domestic tires for everyone. Many tire factories are We haven't studied or developed the real intention. We are willing to change such things. Why do we pay attention to foreign countries for the domestic market? We are now exporting passenger car tires, and we will not support foreign automakers to win the victory in China. It's hard.
Chinese products are artificially undervalued

Tencent Motors: It is worth recommending because you were the boss in the industry last year.
Wang Feng: The Chinese are smart, hard-working and hard-working. I started last year. In our industry, I said that we have the energy to engage in price competition. Why do we not have the energy to engage in research and development? On September 26, 2009, the United States added a 35% tariff, and we sold it in the United States. China All tires are subject to a 35% tariff and all costs are raised. Last year, we sold more than 200 million U.S. dollars to the United States. This shows that China's products have been underestimated by the value of human beings. Of course, there are product grades and product technology levels, and everyone is recognized. A 35% tariff is definitely not available at low levels. Therefore, we now think that it is not necessary for me to say that China's auto industry is golden time, the future is full of competition and challenges, and at the same time it is seizing opportunities. This is an opportunity to seize every opportunity for auto plants to grasp. If we dare to do it, we will be able to develop. We will not be able to develop in the next decade. We are now looking at comprehensive strength. We have this confidence to provide better products for auto plants. For so many years of research, we have also seen that, for example, we all feel terrible about fuel consumption. Including noise, etc., our noise laboratory was established three years ago. We really can't believe that this tire will have so much influence on noise.
The highest we can do is 5 decibels. You 70 decibels, we can reduce 5 decibels, that is, through tire improvements. So this piece hopes to have the opportunity to provide us with more high-end products.

The problem is the impact of tires on the performance of the vehicle

Tencent Automobile: There is a great advantage in research and development, because we can't solve many problems now, because now it may be because the price is high, it is his car he will not match, and you are not the same.
Wang Feng: I'm now working on a laboratory for car benchmarking. I said we also joined. He said that you join us, but we don't have testing methods. The second one I will not speak about. We have technology management, and the top six automakers in the world. The performance indicators of the tires in China are also placed there because he does not have such testing facilities. Tire We are professional, we have a number of specialized, Harbin Institute of Technology to cooperate with us for six years, he is also a world top four automobile factory engaged in more than ten years, we successfully cooperated. Our research topic is the impact of tires on the performance of the vehicle.
Tencent Automobile: These things you need to recommend to the domestic OEM.
Wang Feng: OK.
Tencent Auto: You should take the initiative to make some recommendations for such an old partner.
Wang Feng: We have some products we have made some recommendations, but it is also limited by some conditions, anyway, we are still working hard, everyone is very interested in the Institute. We first suggested that you have to divide engineering and long-distance types. In the same vehicle, we should also separate guide wheels, drive wheels, and trailer wheels. We are also classified as overseas, and domestically, in order to facilitate the assembly of the same vehicle. The same car is all in the same round, but there are many differences.
Plastic Welding Die,Welding Machine,Ppr Welding Tool
Frp Tank,Membrane Housing Co., Ltd. , http://www.nspprpipes.com